Scroll Down to
SEE HOW IT WORKS
2
Someone from our team will contact you.
Your appointment will be verified or modified as needed. We come get your "dirty laundry", bring it to our Laundry Specialists for processing.
3
We deliver your Clean - Fresh Clothes back to you.
All items are placed inside clear plastic to protect them and making it easy for you to put away. And we say "Thank you very much, see you next time"!
"5 Minutes could Save you 5 Hours or MORE!"
---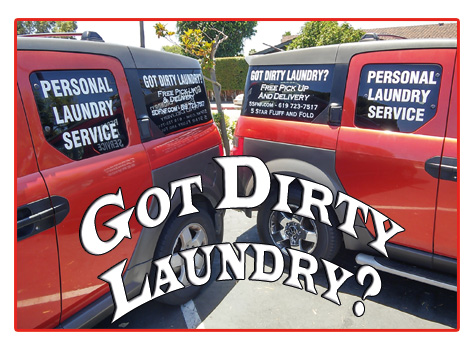 ---
Our Professional Wash-Dry-Fold Service is convenient, affordable and professional! We use our supplies (or we can use yours), saves your gas, saves parking hassles for you Saves your time, money –and we still use high-quality detergents, bleach, and softener!
"Fluff and Fold = Wash and Fold
= Wash, Dry & Fold = Fluff n Fold"
---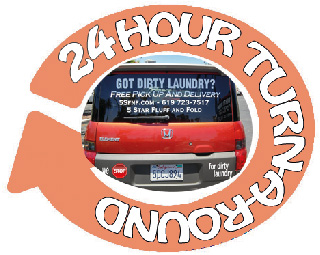 ---
(They all mean the same thing- but they are not all the same We pick up your "Dirty Laundry" – wash it, dry it… then fold or hang as needed and deliver it back to you Fresh and Clean!)
A few very important points right up front!
We now offer "24 Hour" turnaround (up to 100 pounds).
All orders are processed in a Commercial Laundromat
The Laundromat is Ultra Modern and Ultra Clean
All orders are processed by a Professionally Trained Staff
All orders are processed separately (never mingled with any other order)
All items are sorted and processed accordingly (colors, whites, delicates, etc.)
We supply top quality detergents, bleaches, softeners (or you can provide your own)
We work Seven (7) Days a week
All customers are treated with the utmost courtesy
Every effort is taken to accommodate your pick up and delivery needs
You may schedule a delivery at any time after next day or second day as well
We offer Special Discounts to Seniors, Military and those with Special Needs
We offer special pricing depending on your location and needs
We do offer commercial rates based on frequency and amount
We do not offer any alteration service
We accept orders that are "Wet". Then we weigh and price the order when completed and dry!
.... REFER A FRIEND ....
They get $5 off their order
You get $5 off your next order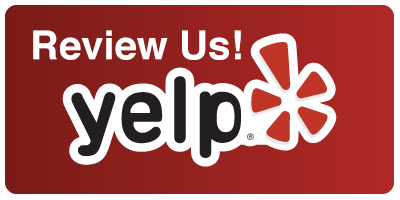 Email:

info@5starfluffandfold.com